Ionic Detox Foot Bath SPA Machine Negative Hydrogen System Premium Holiday Gift with Tub Basin 2 Arrays 10 Liners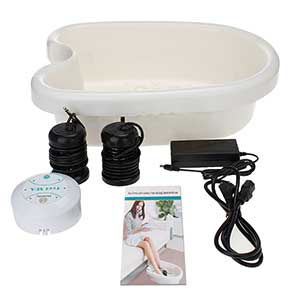 FAQ:
1.Power supply doesn¡¯t work
A:Confirm you hooked up the power cord and the power adapter firmly, the green indicated light on the adapter is ON. Then press the power button on the round control unit for TWO times.(press one time the electronic will go through the machine, press the second time, the machine will start to work!)
2.After several uses, it stopped working.
A:Normally it is because you put too much salt. Replace the water and clean the array to try it again.
3.Water didn¡¯t change color.
A:Confirm you use the warm tap water, not distilled or treated water. Confirm you press the power button on the round control unit for TWO times to start the machine, see if the array produces small bubbles. 4.No feet in the water, it will change color, too.
A£ºYou need to know the principle of this detox foot bath machine.

The principle of this ionic detox foot bath is that water is decomposed into a large number of positive and negative ions through hydrogen rich products. The generated electric field acts on the human body, making the ions in the human body arrange orderly. At the same time, the biological current generated by the machine improves all kinds of sub-health. After complex biochemical reactions, the positive and negative ions in the body release high energy, enhance the cell vitality in the body, promote the activation of various enzymes, speed up metabolism, and in 30 minutes, fast and safe , effectively discharge toxic wastes such as free radicals and unbalanced old cells accumulated in the body for a long time, so as to gradually recover the health of the human body. The main color is the reaction of various minerals, salts in water and the positive and negative ions released by the product. So it will give a light orange yellow hue without any body parts being in the water.